Dr. Dolittle by Danita Shattuck
Albany Democrat Herald 2003

Veterinarian Ken Fletcher is the man the cops turn to when an animal is in need

His back legs in a wheelchair, a dachshund easily scoots across the linoleum that tiles the floor of the vet clinic. Schnopsie, the paralyzed weiner dog, wheels himself past Panda, a mixed breed, and Pewter, a tabby cat.

Veterinarian Ken Fletcher owns and operates the Albany Animal Hospital on southeast Madi
son Street where dogs and cat reside.

When pets are found injured within the city limits and their owners can't be located, Albany police often take the animals to Fletcher's clinic.

Fletcher treats the animals without charge.

"The police asked me and I said sure. It's my contribution back to the city," Fletcher said of the service, which he has provided since about 1996.

On Monday, Albany police took two dogs to Fletcher after one may have been hit by a car. A large furry white dog was lying in the 1000 block of 10th Avenue and a black rotweiler mix was standing nearby when police picked them up.

Police that day also took two birds and a neglected iguana to Fletcher for care.

The vet is no stranger to strange iguanas. Animal shelters in Salem have sent him 10 of the big lizards over the years.

"They don't even keep them," he said.

Fletcher treats the injured, neglected and homeless animals that are brought to him, sometimes keeping them until he can find the owners, or baring that, new homes.

It is frustrating to him when he can't locate the owners. "People should microchip their dogs," he said. "I would personally like to see it as part of the licensing program."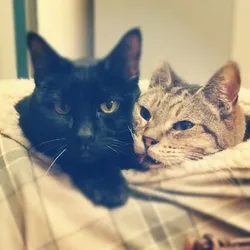 Monday afternoon a client's cat was giving birth to kittens at the clinic. Fletcher picked up the last to be born and rubbed it gently with a towel as the owner looked on.

"There's something wrong with it's foot," owner Joyce Young said when she noticed that the kitten had a malformed back leg and paw.

Fletcher talked with Young about the kitten's disability and it's future as a grown cat. Young decided to have the cat put to sleep. So the vet injected it with a small amount of a pink-colored drug and Young held the kitten while it died.

"I think that was the best thing," Fletcher told Young. "I just can't see it going through that much pain."

He covered the kitten with a small towel. "This has been quite the day," he said.

Fletcher, 52, hitchhiked to Oregon with his dog from Pennsylvania in 1970.

He was a college student in Pennsylvania and had to sneak his dog into the dorm room where he lived. Fletcher has dabbled in a variety of careers. For 12 years he taught middle school and high school math, science and special education. Fletcher also worked for two years in the mental hospital and worked in construction.

At the age of 38, he returned to college. He completed four years of veterinarian school at OSU and then earned a master's degree in zoology at Portland State, then worked as an aquatic toxicologist before starting his veterinarian practice.

Fletcher would like to see an emergency vet clinic open in town. "So we could get some sleep and some weekends off."