Together Again by Katie Pesznecker
Albany Democrat Herald 1999
Vet reunites pooch with his family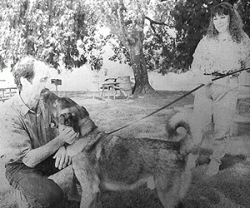 When Betta Spencer's puppy had been missing for a month, she had all but given up hope of getting him back.

But with the help of veterinarian Ken Fletcher and the Albany Animal Hospital staff, Huck found his way right back into Spencer's arms.

"I prayed constantly, and thought, 'Lord, if he's not supposed to be here, just put him in a place where he'll be taken care of,'" Spencer said. "And look where he ended up! It's just awesome!"

On July 21, Spencer learned that Huck, a 9-month-old Akita, was missing. Distraught, but determined, Spencer and her children, Alexis, 13, and Mitch, 18, started their search.

Alexis went door-to-door in their south Albany neighborhood, and Spencer called Linn Country Dog Control, area veterinarians, the police, Safe and Heartland Humane socialites, Akita breeders and the Albany Animal Hospital.

Huck had been gone exactly one month and a day, and hope was nearly lost when Spencer's phone rang on Aug. 22.

It was a staff member from the Albany Animal Hospital, Spencer said.

"They asked," 'What kind of dog was that again?' The more they described it, I just knew it might be my dog," Spencer said.

The Albany Animal Hospital, preparing to close for the evening, agreed to stay open until Spencer and her son arrived.

"If it were my dog, I'd go crazy overnight," said veterinarian Fletcher, adding that waiting for Spencer was the least they could do.

When Spencer and her son arrived, so did the good news.

"We go there and all I heard was this little 'woof' and as soon as I saw him I started crying," Spencer said. "Huck was so happy he could hardly stand still! He was jumping all over us. It was kind of like, "I knew you'd come for me!"

It turned out that Huck was hit by a car the day he disappeared from the Specncers' fenced back yard.

A man brought him to the Albany Animal Hospital, and Fletcher had Huck neutered, bathed and given the appropriate shots, in addition to caring for the Akita's wounded front left paw.

Fletcher also set out to find Huck's owner. He said he tries to find strays' owners by placing ads and making appropriate phone calls.

If that fails, Fletcher tries to find the animal a good home. About two months ago, Fletcher started working with SafeHaven to get animal hospital strays adopted.

"Dr. Fletcher went out of his way to make sure Huck got home," Spencer said. "That just doesn't happen in this day and age when it's just too easy to take them to the pound."

"I didn't want him to go to the pound, because he could end up on death row," Fletcher said. "The bottom line is, animals are strays because they don't have ID on."

Fletcher said the animal hospital offers ID tag implants for pets that are part of a national tracking system. The tag is sewn in under the animal's skin and functions like any bar code would, Fletcher said. A scan of the implant reveals the animal's owners' names and their address or phone number.

The Albany Animal Hospital charges $25 to implant the electronic tags.

"People do get grumpy about having to license their dog, but there's a good reason for it," Fletcher said.

Spencer said she put off getting Huck's tags, but obtained them as soon as she and Huck were reunited.

Now, Huck wears a little guardian angel tag on his collar that reads, "Watch over me, guide me home safely and keep me from harm's way."

"It's used to be on my rear view mirror," Spencer said. "I told Huck, now it's going to be on your tags!"